Newcastle council has a number of schemes in the pipeline or under discussion regarding the reallocation of road space and changed traffic movements, especially in the city centre. One for Grey Street has been widely publicised but more changes are seemingly in store. The Green Party generally welcomes this change of direction in local transport policy. They are certainly a step in the right direction but we need wider, deeper and, most importantly, permanent changes on these lines. All so far are being badged as "temporary". There does not seem to be the urgency and breadth of vision evident in other UK cities, notably London and Brighton.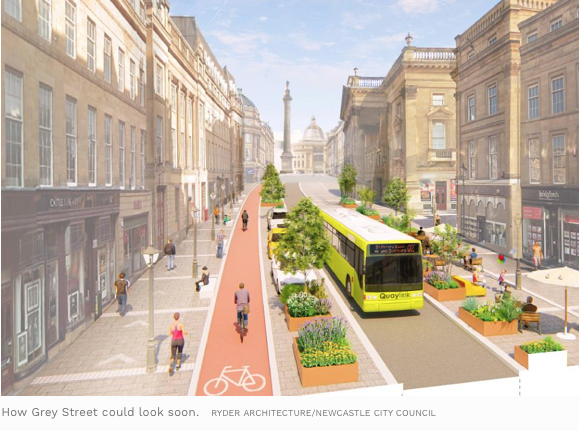 At the heart of the changes is more space and safer space for pedestrians and cyclists. That must mean reduced lanes for road traffic. Apart from Grey Street, other streets highlighted include Queen Victoria Road and Gallowgate. Both certainly need change but there seem to be major gaps.
For example, the south side of St Mary's Place seems to be left out yet it is one of the most congested pavements in the city centre, one also cluttered with obstacles for those with limited eyesight. Furthermore, buses often wait there with engines running while waiting to access the Haymarket bus station. Suburban areas also need similar action. Just look at the narrow pavement opposite the Brandling Arms on Gosforth High Street, for example. So, we cannot confine action to just a few streets. Milan, of example, is targeting 22 miles of streets, transforming them into safer places for pedestrians and cyclists.
Other changes
Pedestrian crossing times are to be made more frequent to stop bunching as people wait. That is a direct contradiction — and rightly so — of the previous obsession with keeping the traffic flowing. That has been a policy that, if successful, only encourages more traffic onto the road and is therefore self-defeating in the long run. We also need slower crossing times since current ones are not long enough for less mobile people to cross safely.
Then there are going to be one-way traffic schemes. It seems that this will also apply to pedestrians on Northumberland Street, with street marshals to give guidance. More broadly there may be a new circulation plan to reduce direct routes, especially in the city centre, and thereby discourage drivers. Such schemes have worked in cities such as Ghent. We need to see such measures as part of an overall plan to curb the car whilst boosting public transport, cycling and, most of all, walking.
An essential accompaniment to such plans must be action to make streets more attractive, with flower beds and trees. Unnecessary 'clutter', aesthetic and physical, has to go too. We need streets where people will want to walk, not just walk safely. The same goes for cycling, of course. It also means a crackdown on firms whose bike riders routinely go on pavements, speed past pedestrians and ignore traffic lights. One company in particular comes to mind. Such firms must be held responsible for the behaviour of their employees.
Dangers
There are, however, fundamental contradictions in the current situation. One survey revealed that 24% of people plan to use public transport less. It would cause an explosion in car driving. Imagine the resulting congestion and pollution. A knock-on effect would be to undermine further the already fragile economic state of public transport operators. That applies to the Metro as much as buses. Further traffic is likely to be added by a big new shift to on-line shopping and van deliveries during the lockdown. That could become a new 'normality', to the detriment of local businesses and efforts to reduce air pollution and greenhouse gas emissions.
Already air pollution levels have risen back to pre-Covid-19 levels in China and Vietnam as well as some European countries. The same could easily happen here, especially if economy recovery is perceived in terms of getting traffic flowing and planes flying just as before the crisis. It is a hard thing to state but the Covid-19 crisis, with all its suffering, physical and mental, did open the door to really progressive changes in society but the opportunity will slip away without comprehensive planning within the framework of the sustainable common good. A failure to provide sufficient safe space could also help to sow the seeds of a second and possibly more costly Covid-19 wave.
Interlocking crises need integrated answers
Safer spaces are actually only part of the picture. Far bigger health problems and other dangers are looming in the future, all, however, tied in different ways, both direct and indirect, to the immediate Covid-19 crisis. There is, for example, a general public health crisis bigger and deeper than the current pandemic. It has helped a situation in which millions have what are somewhat euphemistically called 'underlying health conditions', ones which, apart from their specific costs in terms of wellbeing and premature deaths, make sufferers much more vulnerable to Covid-19
One cause is sheer inactivity. Many people simply do not get enough exercice. It is linked to one in six deaths. Sometimes it seems if buildings and other spaces are almost designed to keep people inactive. The same is true of many jobs where people sit slouched in badly designed staring at screens all day long and then sit in their cars when they travel around. We need attractive and safe spaces to get people walking and cycling. You don't need expensive gyms to be fit!
Then there is the toll from general air pollution. It is a far bigger killers and it kills all the time, unlike pandemics. Again, it seems to have made people more at risk from Covid-19. Estimates vary but it seems that over 40,000 people die each year due to air pollutants. Road vehicles are a major cause, not just exhaust emissions but also pollution from tyres and brakes. One study suggested that that 90% of UK air pollution 'hot spots' are caused by road vehicles. Newcastle accounts for 6 of the 10 worst sites in the NE. Bad areas include Percy Street, Mosley Street, Westgate Road, Market Street. Blackett Street and Gosforth High Street.
Children and older people are particularly at risk. It also creates another burden for the resource-starved NHS. One study claimed that each car in London causes the NHS £8,000 a year due to the pollution it helps to cause. But more trees and general 'revegetation' will not only make streets more attractive places but also reduce some of that pollution. Many councils are however putting 'clan air zone' plans on hold due to the Covid-19 crisis. That is insanity given the intimate links between air pollution and vulnerability to such diseases. The scope for what could be done was underlined, for example, by the British Lung Foundation which reported in June that nearly 2 million people with lung conditions had seen their symptoms improve as a result of the drop in air pollution during the 'lockdown'.
Looming over such problems however is on-going global overheating and the threat from climate breakdown with all its consequences: heat waves, floods, storms, coastal inundation, food shortages, acidification of the oceans, mass extinction of flora and fauna… We can isolate at home from Covid-19 but we cannot isolate from climate breakdown. It really is a mass killer on the loose.
Again, the same forces that help to drive climate breakdown are the very same ones that have helped to create the conditions for Covid-19: tropical deforestation, intensive livestock units, mass movement of goods and people. Again, impacts such as heat waves and regular floods undermine individual and community resilience in the face of pandemics.
Big reductions in road traffic (and aviation) are vital if we are to halt and reverse climate breakdown. Some 20% of total CO2 emissions in Newcastle come from cars. Nationally, then whole transport sector causes some 28% of greenhouse gas emissions. It is now the worst sector of the economy, even surpassing the power supply industry.
Reallocation of road space will help in that battle as it will make streets safer for pedestrians and cyclists in the short-term. Planting trees on a big scale (see Milan's plan to plant 3 million trees over next ten years) will also help to create bigger 'sinks' for excess CO2 emissions as well as improve air quality (https://www.independent.co.uk/news/world/europe/milan-trees-air-quality-pollution-climate-change-stefano-boeri-vertical-forest-italy-a8674906.html). Of course, the record of Newcastle city council is this field is dire. Not for nothing was the city named "tree-felling capital of Britain" by the 'Sunday Times. But there is joy indeed over one sinner that repents and changes such bad ways.