There is now a real danger that land use planning in Newcastle is going to take a turn for the worse. Decision-making powers in the field have been handed over to a small clique of officers. (i) The chances are that the City Council is seeking to bulldoze through all sorts of unsustainable development via his undemocratic back door. The threat to local democracy from such delegation of power is evident. But the real danger is that the city will become even less sustainable and resilient.
The council's track record speaks volumes about its warped vision of the future. There was the Core Strategy land use plan. It led to the biggest grab in the country of Green Belt land for 'development' (ie former green spaces buried under tarmac, concrete and brick). Then there has been the relentless assault on local tree cover, including the criminal destruction at Woolsington Woods. It led the 'Sunday Times' to name Newcastle 'tree-felling capital' of Britain.
This record is actually only a continuation of past (mal)practice. The immediate antecedent was the 'Going for Growth' strategy, a good critique of which can be found in Anna Minton's forensic study 'Ground Control'.(ii) But its roots go back to the 1960s when the bible was 'New Towns for Old', authored by the then chief planner Wilfrid Burns.(iii) It had its antecedents in the 1946 Percy Parr Plan, mercifully never put into practice since it would have demolished large chunks of the city centre to make way for new roads.(iv) In two words, this recipe could be summed up as "tall and sprawl".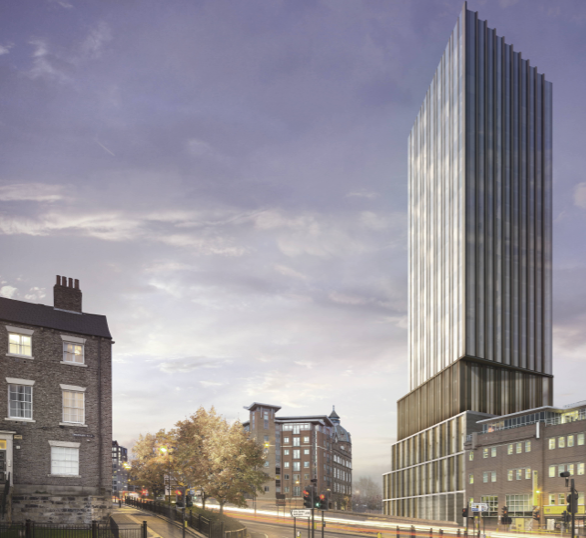 Tall
In the 1960s, city planning in Newcastle, as elsewhere, looked upwards: the 'city is the sky'.(v) The most obvious symbol is the housing tower block from the era of T Dan Smith's Labour Party, some of which are still with us.(vi) Most were a social disaster and did not even save land, due to spacing needed to meet daylight requirements. Some have had to be pulled down such was the failure of the 'tall' housing policy.(vii) To be fair some older citizens can welcome the extra security such blocks may bring but their suitability assumes a caretaker system, functioning lifts and clean stairwells, all of which are frequently absent. Generally, the experience has been a very bad one(viii)
The city centre itself got a brutalist bashing, most notoriously in the form of the Bank of England building at the foot of Pilgrim Street, empty for years and now demolished. Other ugly towers included the giant Westgate Building near the Central Station, thankfully now also demolished, and the Commercial Union building, sadly still intruding over Pilgrim Street. The city in the sky' can still be sampled in the litter-strewn and windy walkways around the Central Library over which still looms another tower block, Bewick Court. Other institutions also went tall, as can be seen on the Newcastle University campus (Claremont Tower etc).
Yet 'tall' is now back in fashion despite its manifest shortcomings, be it extra fire hazards, increased risk of social isolation, or generally inhuman scale. It comes in the form of the council's recently revised 'Tall Buildings policy', which has found expression in the ghastly Hadrian Tower (expensive luxury apartments in a city with severe housing problems) and the big blocks on the site of the former S&N brewery in the 'Helix' complex. Then there is the proposed 35 floor 'Carliol Tower'. Parts of the Quayside, notably the Law Courts, look as if Albert Speer was given a giant Lego set to play with. Newcastle seems to be mindlessly following in the footsteps of London (Docklands etc),(ix) Manchester (x) and Leeds. Architectural megalomania seems to be back in fashion with scant regard for people and planet.
Sprawl
The 60s were characterised by the first big blotch of suburban and, rather, 'exurban', sprawl, as Darras Hall mushroomed over former greenfield sites. Supposedly it was going to attract job creating entrepreneurs who would transform the area. At the level it was a failure and is now home to, amongst others, massively overpaid footballers.
More generally as the city spread outwards, many inner areas went into severe decline and any attempts at revitalisation achieved but very limited success. Of course, deindustrialisation played a big part in many areas (Walker and the shipyards, for example). Yet, such factors notwithstanding, there is often a trade-off between development on the urban fringe and decline in older neighbourhoods within.
At the turn of the century, came another big blotch on the landscape in the form of Newcastle Great Park. It is neither great nor a park. It is just another car-dependent suburb. Some 15,000 new jobs were promised. Hardly any materialised (as opposed to relocations such as Sage). Nor did the new centre which, in artist visualisations from the developers, looked like some Italianate piazza. The 'Park' has the dubious honour of being the only place in the city where residents in effect pay one tax to the council and another to the developers. (xi)
Today, there is an even bigger wave of suburban sprawl is swamping farmland and wildlife habitat in several areas. Again, it is in the form of car-dependent dormitory suburbs. Huge tracts of former green space are being lost in localities such as Throckley, Callerton, Kenton Bank Foot and Wide Open. Vital foraging land for wildlife around Gosforth Nature Reserve was only saved thanks to public outcry. It looks, however, as if Havannah Nature Reserve is going to be well and truly hemmed in, with its ecological health put in doubt. Promises of massive brownfield site regeneration have failed to materialise (as has the network of 'pocket parks' promised at several public consultations)
And the Mall
It would be remiss to leave out another element of land use planning: the sacrifice of huge area to shopping malls (aka 'retail parks') and surrounding car parks. Often, they feature drive through fast food outlets, scarcely an aid to healthy living nor reduced traffic levels. They and all the other chain stores represent a major leakage of monies from the area as profits disappear into faraway coffers. Such centres have popped in areas such as Kingston Park, Stamfordham Road (St James Retail Park) and East Heaton. The flipside has been of course the decline of existing 'high streets' to which many people could easily walk (obviously on-line shopping has hit them badly too as have sky-high rents in some cases such as Gosforth High Street).
These malls typify 'clone towns' with a vengeance. The biggest is of course across the Tyne in Gateshead's Metrocentre but, big or small, they offer little real choice. They further drive retailers in older shopping centre to demand more parking spaces and indeed ones with low charges (if not free, as in the "Alive after Five" scheme in the city centre). In fact, many shops are sustained by footfall from pedestrians, cyclists and users of public transport. This is where the future lies: a network of local community centres that are easily reached by such means. But it will also require the revival of other local facilities such as post offices and 'tool libraries' as well as support for small-scale traders.
It might be remembered that the seemingly cheap big box stores and especially on-line retailers are subsidised out of the public purse. Without state investment in the highway network on which their juggernaut lorries and delivery vans are utterly dependent, such businesses would not have grown. In the case of firms such as Amazon, their tax arrangements also give them an unfair advantage while prices are also kept low by poor wages and working conditions.
Overall, the creation of all these shopping malls was the wrong strategy but it will take central government action, not least with regard to living wage policies and proper taxation, to swing the retail industry in more sustainable directions.
Green alternative
Greens advocate the sustainable redevelopment of the existing built-up area with moderately high-density schemes, including 'car-free' housing developments on land such as the Forth Yards. Some people object to higher density living. Yet some of the most attractive urban areas in Europe have comparatively high densities. Others say they are unsafe. But that is not necessarily so. In New York City, for example, the low-density sprawl of Queens and Staten Island has had far higher rates of infection than the far denser Manhattan. Income and lifestyle choices (diet, exercice etc) are more significant factors.
Of course, the tower blocks inherited from the T Dan Smith in Newcastle give high density living a bad name. Many have been a social disaster and in no sense are they fit for decent living environments Fortunately, there is now god guidance about how to get density right. Unlike the planning that Newcastle and nearly all councils, Labour. Liberal Democrat and Tory, have pursued, green city planning can be deliver a far better deal all round: affordable housing, nearby facilities accessible on foot, good jobs (not ones largely 'digital jobs' for a small number of start-up 'creatives' and compute wizards nor ones in the form of insecure, low pay 'McJobs' for the 'masses') and healthy green spaces (micro-parks, allotments, etc).
Low-density suburban sprawl has the highest carbon footprint, mostly attributable to car use but also because houses are bigger and do not share walls. The green alternative would not only cut carbon emissions and pollution from road traffic. It would also avoid the high costs of infrastructure provision in sprawling suburbs where it is also much harder to collect waste for recycling, put in accessible bus routes and so forth. People who live communities where it is easy to walk and cycle are often much healthier. Let us be blunt: they tend to be more resilient too when it comes to threats such as Covid-19.
Greens advocate a mix of terraced townhouses and low-rise apartments blocks with midrise buildings at strategic urban centres and along transit corridors. Comparatively high densities lead to vibrant streets and sufficient number of people to sustain local stores, cafes, pubs, and restaurants as well as community services. Critically there will be enough travellers to make attractive public transport provision viable. It can also be safer but with 'eyes on the street' soft policing instead of video surveillance. Unlike the comparatively monocultural housing estates on the urban fringes, in-town redevelopment could cater for all ages and all incomes.
Sometimes such development is called "gentle density," those built forms that can double or triple the density of neighbourhoods.(xii) A related concept is the 20-minute neighbourhood. Anne Hidalgo, mayor of Paris, has actually been proposing 15-minute ones. (xiii) Another variant is the 'superblock' scheme in Barcelona. (xiv) There is also a growing body of work on car-free developments.(xv)
Newcastle council should be learning from all these examples instead of trying to drive into the future with its eyes fixed rigidly on the rear view mirror.