Green Party campaigners have branded the plans for a giant waste incinerator serving Teesside, County Durham and Newcastle1 a 'failure of policy'. The waste incinerator, referred to as an 'energy recovery facility', would burn all the residual waste from the 7 councils involved, is planned on the basis of a growth in waste to a capacity of at least 450,000 tonnes, and would be built for a contract term of 29 to 40 years.
The Green Party point to well-established evidence that large contracts for incineration (or 'recovery') reduce the scope for essential waste Reduction, Re-use and Recycling initiatives. As recently as 2017, Green Party campaigners delivered evidence to the Newcastle Waste Commission showing that higher rates of waste incineration are associated with lower recycling rates (see graph). (2)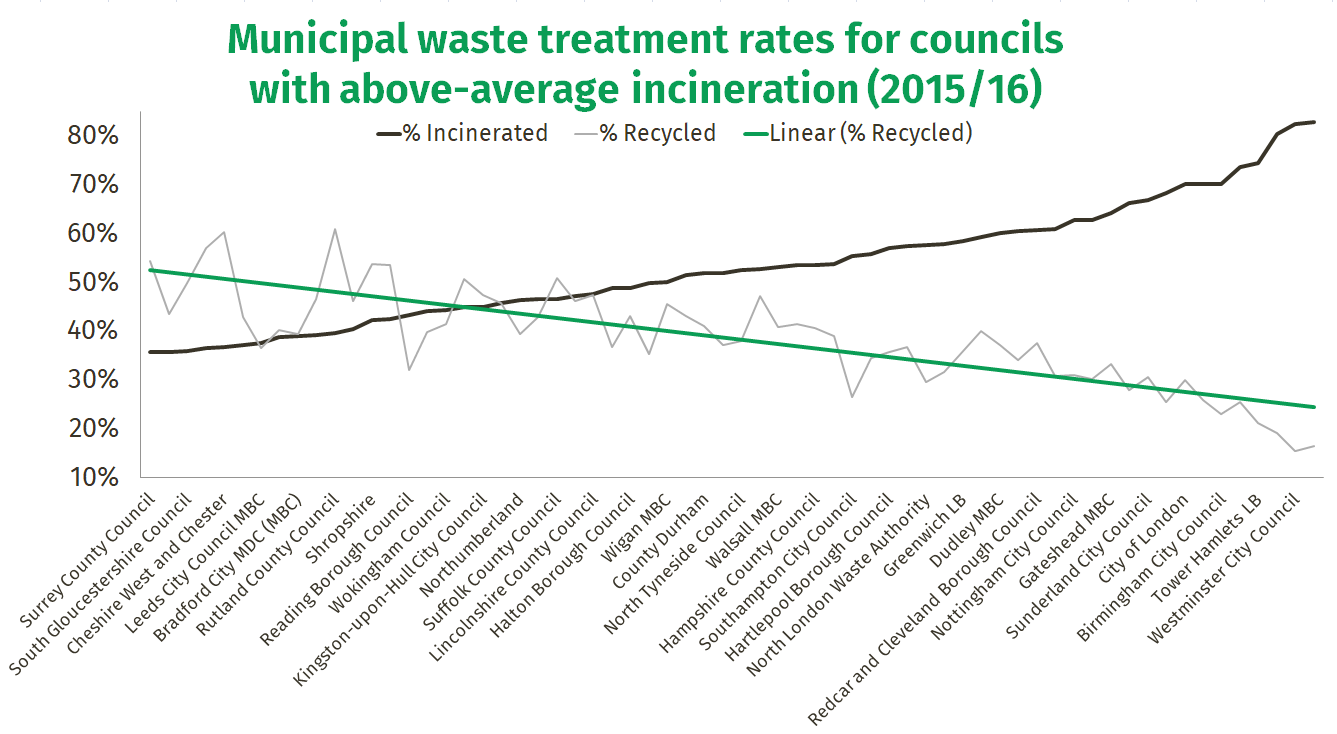 Andrew Gray of Newcastle Green Party said "This rush to mass incineration ignores the evidence of a Parliamentary Select Committee in 2001, it ignores the reports of the award-winning BAN Waste select committee enquiry in 2003, and it ignores the warnings and recommendations from the Newcastle Waste Commission in 2018."(3)
Green campaigners in Newcastle have consistently emphasised that waste Reduction and Re-use are at the top of the waste hierarchy, and must be prioritised in any waste strategy. But these proposals make no mention of Reduction or Re-use,(4) and the procurement notice specifically forecasts a growth in waste, stating that "The ERF will be required to have capacity to at least the Councils' forecast residual waste over the term, and accommodate changes in waste growth leading to an expected processing capacity of at least 450 000 tonnes of waste per annum towards the end of the term."(5)
Gray added "This project shows that Newcastle has given up on a sustainable waste strategy. It has failed to follow its own Newcastle Waste Commission recommendation for a Reuse Mall, it has failed to have any ambition to Reduce waste levels, it has failed to learn from the Byker Incinerator scandal of 20 years ago."
Greens also emphasise the importance of community engagement to Reducing waste and increasing Recycling. This was confirmed by the BAN Waste community programme, which showed that residents across the city wanted to engage with a sustainable waste strategy, and formed a key recommendation of the Newcastle Waste Commission.
Taymar Pitman, Green Party campaigner said "Yet again, the Council has opted for a large-scale incineration contract over effective community engagement. It has ignored the lessons of the BAN Waste community events, ignored the central recommendation of its own Waste Commission for a Resource Newcastle Partnership which 'must include communities',(6) ignored evidence provided by the Green Party on the importance of community engagement.(7) But it has learnt instead to change the name from 'waste incineration' to 'energy recovery', and to park its incinerator as far away as possible in Grangetown. What is perhaps worst of all is that these plans lock us into this failed waste strategy for a generation or more. The initial contract term runs until 2051, with an option for an 11 year extension."
Greens warned against awarding long contracts when giving evidence to the Newcastle Waste Commission in November 2017, urging the Council "Not to enter into long-term contracts or arrangements which require large minimum volumes of waste, and so create an incentive to maintain or increase the size of the overall waste stream."(8) The Green Party argue that it's vital that the council learn the lessons from the Byker Incinerator (Energy from Waste plant), which was hailed as technologically advanced when built in the 1970s, still defended in the late 1990s when a local MP condemned health concerns over the spreading of ash as 'scare mongering', but exposed as a serious source of pollution just months later.(9)
Greens also condemn the 'green washing' of this scheme, which presents a failed waste policy as "a sustainable solution," and uses the term "recovery" as a euphemism for burning waste to generate energy.
Andrew Gray added "20 years ago, Councils began to call their waste incinerators 'energy from waste' plants because it sounded better. Now that the public has seen through that euphemism, they have adopted another one, 'energy recovery facility'. Only those within the industry and well-informed members of the public will know that 'energy recovery' will involve mass burning of waste."
(1)The Tees Valley Energy Recovery Facility Project, announced at https://newcastle.gov.uk/citylife-news/councils-join-forces-ps21bn-energy-and-waste-project with contract advertisement at https://procontract.due-north.com/Advert?advertId=d7f12f46-8dcb-ea11-8104-005056b64545 and EU procurement notice at https://ted.europa.eu/udl?uri=TED:NOTICE:350833-2020:TEXT:EN:HTML
(2) Graph used on slides for presentation to Newcastle Waste Commission by Frances Hinton and Andrew Gray (for Newcastle Green Party), Mansion House, 30/10/2017
(3) Parliamentary Committee quotation, "sustainable waste management has as its cornerstone the minimisation of waste, and the explicit maintenance of waste streams for the purposes of incineration is in complete contradiction of this principal", Byker and Newcastle Waste Working Group (BAN Waste) final report Too Good to Waste (October 2003), Newcastle Waste Commission report No Time to Waste (October 2018): "don't invest in solutions that artificially cap the city's recycling potential" (p.51)
(4)They mention only "maximising recycling and recovery of waste" (near end of notices)
(5) Notice at https://ted.europa.eu/udl?uri=TED:NOTICE:350833-2020:TEXT:EN:HTML, under 'Short Description'
(6) No Time to Waste as above, passim
(7) Presentation as above, quoted from Cwm Harry Land Trust report in 2000, "Running a community kerbside collection requires, above all else, good people skills" (Powys community recycling, food waste and composting project, http://www.communitycompost.org/growingheap/2000%20Spring.pdf
(8) From slides for presentation as above
(9) The MP was Kevan Jones (North Durham).