Taymar Pitman - Candidate for Newcastle upon Tyne Central
I believe that the Green Party are the only party to offer real change and to put people and their quality of life, first. The threats to economic, social and environmental wellbeing are part of the same problem; we can't solve one of these crises without solving the others.
Our country has faced much turmoil in recent years, with our government prioritising austerity and Brexit instead of providing the services that we need. Public funding has been slashed, especially in the North. I'd like to see Newcastle receive its fair share of financial support, so that we can invest in our infrastructure, create a green economy and meet the needs of future generations.
Being part of the community is important to me and I campaign on local issues such as road safety and air quality. I organise regular litter picks, volunteer locally and have worked hard for four years with other campaigners, to reopen Elswick Pool. I will stand up for people's rights and be a strong voice for residents in Newcastle upon Tyne Central.
As a Green MP, I will campaign for cheaper public transport, cleaner air to breathe and proper jobs that pay a living wage instead of zero hours contracts. I will work hard to safeguard our NHS, protect our environment and re-nationalise our railways.
Newcastle has seen years of under-investment and reduced services. It's time for new leadership to ensure that our city is a fair, happy and healthy place to live.
Email Taymar: tay@nclgreens.org.uk
Call Taymar: 07957709175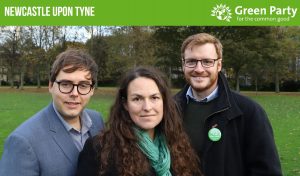 Well Brenda from Bristol wont be happy, but a General Election has been called and we have three excellent candidates selected to represent the Green Voice in Newcastle upon Tyne. Your Green Party Candidates Click on their photos to view their profile Taymar Pitman – Newcastle Central Alistair Ford – Newcastle North Nick Hartley – […]
Your Help is Needed!
Our crowdfunder has now finished ( thanks to all who donated their money to help us! ) however you can still support our campaigning setting up a regular donation via PayPal or Direct Debit here.
If you can help with our campaigning the you can volunteer here.
And finally you can help by voting Green in 2019!